All-Inclusive Wedding Packages
Let us do the work. Your intimate, non-traditional wedding awaits at La Fromagerie!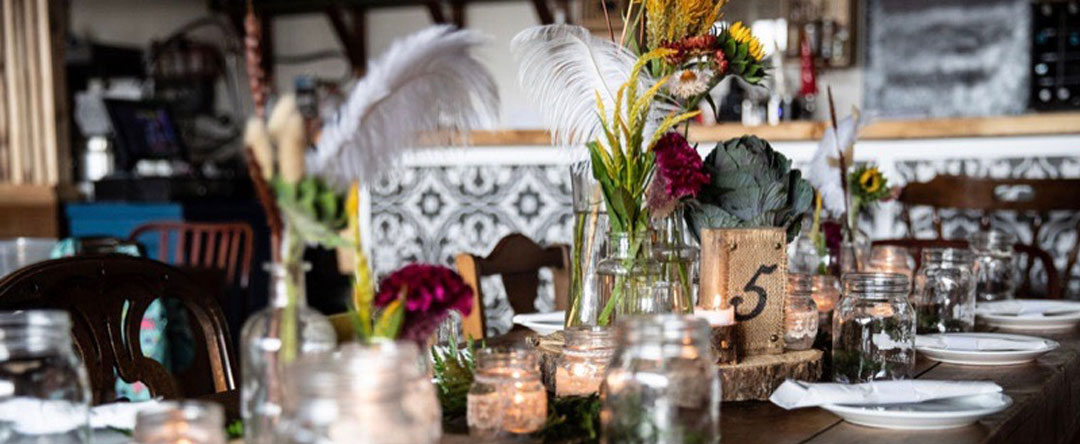 Planning a Wedding?
Here are some tools to help you plan your spectacular wedding with The Fromo!
All pricing current as of 2021.
Non-alcoholic drink package
Basic decor
(3 themes to choose from)
Fresh floral centerpieces
On-site event coordinator
Non-alcoholic drink package
Basic decor
(3 themes to choose from)
Fresh floral centerpieces
On-site event coordinator
Non-alcoholic drink package
Specialty station – Choose 1
Flowers – Party & Parents
Basic decor
(3 themes to choose from)
Fresh floral centerpieces
On-site event coordinator
~ Our Catering Regions ~
Sudbury – Manitoulin Island – Muskoka – North Bay and Area!
* 30% non-refundable deposit required to hold date.
* Prices do not include 13% hst or 18% gratuity.
Add-ons!
The Fromo is pleased to offer a variety of unique food and drink add-ons for your guests both at our venue and off-site for your convenience.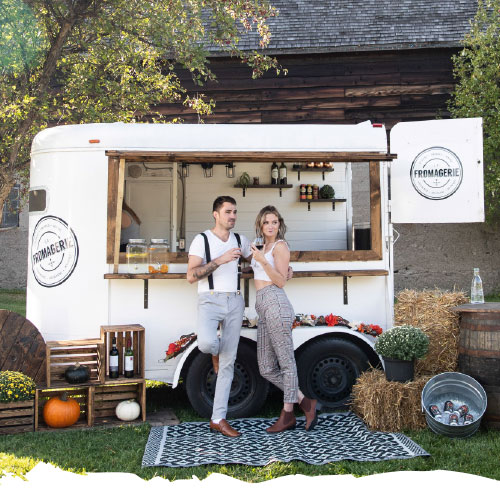 ~ Fromo Trailer ~
Great for Outdoor Weddings, Gift Openings, Bacholoretts etc…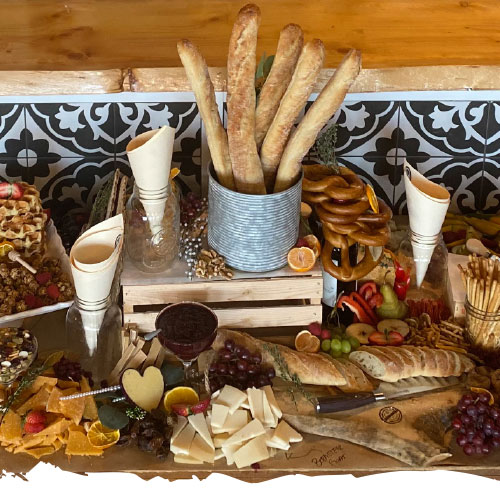 ~ Grazing Tables ~
Impress your guests with the latest lifestyle trend!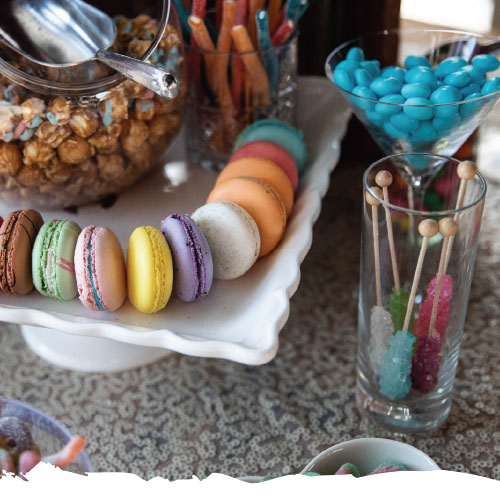 ~ Candy Bar ~
Three sweet packages to choose from!
Inquire Now!
Check date availability and start chatting with our wedding coordinator.
Inspiration Gallery
Here are some decor ideas from past weddings and events.
Frequently Asked Questions
What are your billing policies?
30% non-refundable deposit required to hold the date. If your event needs to be changed we will use your deposit towards the new date or format or catering.
Final menu selections must be made 14 days prior to the event date.
Remainder of payment is due the day of the event before midnight (with exception of a host bar, which the drinks can be paid for at the end of the event). Your total cost may be paid in instalments prior to your event if arranged with your Event Coordinator.
A 1% surcharge will be added daily to any past due balance.
You have access to the venue for external decorations at 3pm.
Guest count includes all people in the space who you want to have a seat
and be fed. Outside staff such as photographers, DJ etc may/or may not be included in this total based on your preference.
Alcohol service ends 1 hour prior to venue rental.
To book an in-house event that requires our dining room to be shut for the majority of the day, it is a minimum of $10,000 (between food, drink, venue rental and gratuity) Friday-Saturday and $7000 on all other days.
The client's full name, current residential address, primary contact information and valid credit card information must be obtained to secure event date.
Prices Do Not Include HST.
When do I need to submit my final head count?
14 days prior to the event date. Guest count includes all people in the space who you want to have a seat.
What if I don't want something in the package, can I remove it and receive a discount? Ex. Flowers or champagne toast?
Unfortunately, each package has been crafted and priced firmly. We cannot remove an item from the package but we can recommend using our build your own option for more customization.
What's included in the basic decor?
Centerpieces, table numbers, card box, seating chart holder, table runners and basic signage, twinkle lights above the seating area.
We also have a collection of other decor items that we allow you access to based on availability: table runners, drapery, candles, cake stands, wine barrels, wooden crates, gold charger plates, fake florals, wooden rounds, doughnut stand, etc.
We are always working with our couples to add more items to our decor collection within reason. If you want a specific type of sign or placements or charger plates or table numbers or table runners etc that we do not currently have (and can find 2-3 options on amazon or etsy for a decent price) we will usually invest in them. Inquire with your event coordinator for more info.
What's included in the floral arrangements and wedding parties arrangements?
We work with This and That Blooms. All of our pricing in our all-inclusive wedding packages are based on using florals that are in bloom at that time of year. If there is something you want outside of this we are happy to obtain a quote for an add-on.
Do you provide chair covers, cloth napkins or tablecloths?
What time can we come in to decorate?
Our venue is open to the public until 3pm. You can do light decorating before then and have full access after 3pm.
Can I bring in my own decorations?
You are welcome to use your own decorator and decor for your event. La Fromagerie prohibits: any kind of confetti, sparkles or any kind of rice, flammable candles, sparklers, vinyl's, fire works, special effects, including fog machines, pyrotechnics or devices that will create heat, smoke or mist. La Fromagerie prohibits any items to be fastened to interior walls or floors; i.e. tape, nails.
Can we see a sample table setting before the event?
Yes. Inquire with your event coordinator for more info.
Can we do a taste test menu prior to the wedding?
Absolutely. We work with Boy Gorgeous Catering Co. and are happy to coordinate a sample menu.
Can you accommodate guests with allergies and dietary restrictions?
Yes! We can do our absolute best. Our menus have multiple options for vegetarians, vegans and those that are gluten free. Menu items may contain or come into contact with wheat/gluten, milk, eggs, peanuts, tree nuts, fish, shellfish, and soy.
For more information, please speak with your Event Coordinator. In the event there is an allergy we will do everything possible to prevent cross-contamination but it is not something we can guarantee.
If our package includes open bar, what hours does it run?
You customize all the drink service timelines for your event.
do you allow guest bar tabs?
Yes if they leave a credit card with us. Any tabs not paid up by the guest will be the responsibility of the event hosts.
Can we bring in our own wine/alcohol for our function?
La Fromagerie does not permit outside alcohol on the premises. If outside alcohol is discovered, your event will be shut down and a penalty of $1000 will be applied.
The following exceptions apply:
– Wine Corking Fee $15 per bottle
Do I have to get a liquor license?
Nope! We have a full-service bar and a large drink menu.
All La Fromagerie bartenders are Smart Serve certified. If alcoholic beverages are to be served on the venue premises, La Fromagerie will require that beverages be dispensed only by their certified employees. La Fromagerie's alcoholic beverage license requires the venue to:
i) Request proper identification (government photo I.D.) of any person of questionable age, and refuse alcoholic beverage service if the person is either under age or proper identification cannot be produced.
ii) Refuse alcoholic beverage service to any person who, in the bartender's sole judgment, appears intoxicated.
Can we do a toonie bar?
Yes we are happy to accommodate any type of host/cash bar. We will tally the drinks throughout the night and charge the total at the end of the night on the card left with us.
Can we use the patio during the summer season?
Yes. The patio will be closed to the public and open to your guests during your event.
Do you have a private entrance or area for the bride?
Our intimate dining room is open concept and does not have any private space.
Is there a smoking area?
Yes, your guests may smoke on the sidewalk adjacent to Elgin Street.
80 Elgin Street
Sudbury, ON P3C 1T3
Sunday - Monday: Closed
Tuesday - Wednesday: 11am - 10pm
Thursday - Saturday: 11am - 12am

* Please note that email requests will be responded to within 72 hours. Calling is the preferred communication method for urgent matters.
* All food orders (outside of special events) should be placed through our online ordering option, by calling the restaurant or in person.
We appreciate your cooperation and understanding!